21st AGM of MBAAAUoC - Thusitha de Silva appointed as the president
---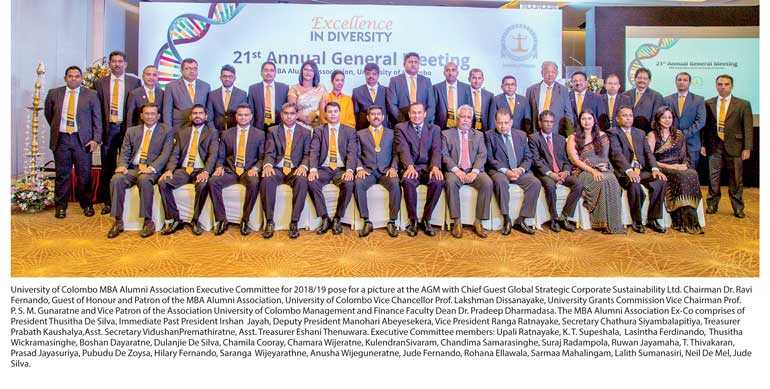 The MBA Alumni Association of the University of Colombo held their 21st Annual General Meeting recently at the Hilton Residences, with a large gathering of members and other stakeholders. The occasion was graced by Chief Guest Global Strategic Corporate Sustainability Ltd. Chairman Dr. Ravi Fernando, and by other eminent guests, such as University Grants Commission Vice Chairman Prof. P. S. M. Gunaratne, Guest of Honour and Patron of the MBA Alumni Association, University of Colombo Vice Chancellor Prof. Lakshman Dissanayake, and Vice Patron of the Association University of Colombo Management and Finance Faculty Dean Dr. Pradeep Dharmadasa.

Dr. Ravi Fernando spoke on the concept of "Future-ready Business Leaders" in his keynote speech. He stressed that the MBA program must produce future ready business leaders, and that the subjects of strategic risk management and strategic opportunity management are two key disciplines in achieving this task. He further described the impact of climate change, geopolitical risks etc. which always disrupt the supply chain in organisations, and which come under the study of strategic risk management. He classified the four new technologies of 3D printing, nanotechnology, artificial intelligence and precision agriculture under strategic opportunity management.

Professor Lakshman Dissanayake described the initiatives taken to uplift the University into the next level and remain competitive with other institutions. He explained that they have put forward a proposal to start two new faculties at the Colombo University premises, namely the Engineering faculty and the Commercial Agriculture faculty.

Thusitha De Silva was elected as the new President for the year 2018/19, taking the leadership from Irshan Jayah. De Silva is a well experienced professional, with wide management experience in the fields of sales, technology, quality control, supply chain and export market management. He has 20 years' corporate experience with multinational organisations, and currently heads the Commercial and Industrial Sales function of Chevron Lubricants Lanka, and his scope covers export business in Bangladesh as well. Before his career with multinationals, he worked as an Assistant Government Analyst, specialising in investigations of firearms-related incidents for the Government of Sri Lanka. De Silva was attached to the University of Colombo Chemistry Department as an Asst. Lecturer after the completion of his first degree.

He completed his MBA from University of Colombo in 2006 and holds a Special degree in Chemistry from the same University. He is a Member of the Institute of Chemistry, and a Chartered Chemist. De Silva is one of the few leaders in the industry who has such a wide experience spanning the full value chain. De Silva is a product of St Peter's College, Colombo 04.

In taking over, the new President unveiled the new theme for the year: «Creating a holistic life" as the vision for the upcoming year, and he emphasised the importance of striving to lead a holistic life through development of physical, emotional, social and spiritual aspects of our lives in the year to come.

In his acceptance speech, he emphasised that there are many programs of study and forums to learn about professional skills, but rarely forums on holistic life concepts. In reality, most corporate executives sacrifice personal wellbeing in order to pursue professional goals, leading to stress and burnout, and fail to find the happiness we set out to achieve. He also informed the membership that he intends organising a series of activities in taking this message to a wider audience, and adjusting our lives accordingly.

The MBA Alumni Association of University of Colombo is an active body with a membership base of around 700 who represent diverse fields of achievement and disciplines and specialties. They organise events of national importance bringing together the academia, corporates and the public sector.