Colombo Uni. MBA Alumni Association elects Boshan Dayaratne as new President
Some members of the MBA Alumni Association, University of Colombo's new Ex-Co with Chief Guest and Guest of Honour at the hybrid event of the Annual General Meeting – Pix by Upul Abayasekara
---
The Colombo University MBA Alumni Association recently held its 24th Annual General Meeting with Boshan Dayaratne installed as the 25th President, succeeding Ranga Ratnayake following completion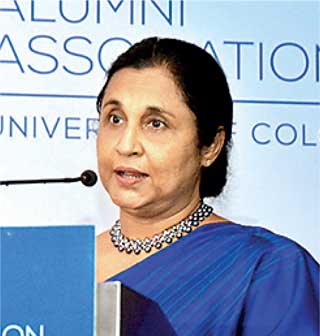 Guest of Honour, MBA Alumni Association Patron and University of Colombo Vice Chancellor

Senior Prof. Chandrika N. Wijeratne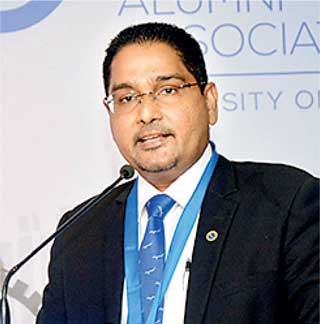 University of Colombo MBA Alumni Association President

Boshan Dayaratne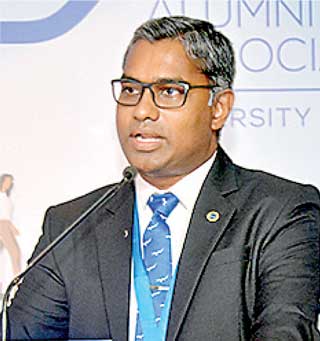 University of Colombo MBA Alumni Association Immediate Past President Ranga Ratnayake
of his one-year term.

Chief Guest at the hybrid event was Dialog Axiata Plc Group CEO Supun Weerasinghe and Guest of Honour was University of Colombo Vice Chancellor Senior Prof Chandrika Wijeyaratne who is also Patron of the Association.

The MBA Alumni Association of University of Colombo is an active body with a membership base of around 700 plus members from diverse professional and academic fields. It carries out events of national importance bringing together the academia, corporates and the public sector.

The annual budget seminars organised by the MBA Alumni Association in partnership with the Daily FT have been well regarded by the corporate community in Sri Lanka.

Newly-elected President Boshan Dayaratne in his acceptance speech said he was both honoured and humbled to stand before members as the 25th President of the Association.

"During the last 24 years, our association has grown from strength to strength. As an association, we always experienced change. Change is inevitable, change is hard, and change is necessary. This is a universal truth that every business leader must know. Change is not inherently positive or negative, it is our response to it that makes it so. What is of relevance is, how we think about it and how we manage it. Our feelings on change, as leaders, are a direct result of thinking about change. Every change is an opportunity," Dayaratne said.

It was in this context that he revealed during his tenure as the President of the MBA Alumni Association, University of Colombo, the theme pursued will be 'Transformational Change, a journey of discovery'.

"The principal and paramount intention in a business organisation is to strengthen its connections with the employees, partners and community, at all times. However, if we do not properly manage these connections they can weaken or be broken entirely," the new MBAA President said.

He quoted Sir Francis Bacon, Lord Chancellor during sixteenth century England on change. "Things alter for the worst spontaneously, if they are not altered for the better by design."

"Here is the essence of transformational change captured for us, It is clear that not taking a decision is also a decision," Dayaratne said.

He said that organisational agility is strategic and imperative because the world is always changing.

"We were used to planning our business processes based on strategy, mission, and work. During the last decade, our businesses experienced numerous challenges from technology and innovation, labour migration, skills shortage, customer and employee experience and the list goes on and now, with the COVID-19 pandemic has added another dimension to the list. This challenge is much larger than those that we experienced before. We had no choice but to adapt and respond to the pandemic," the MBAA's new President said.

According to him the response came in three ways:

"First, responding directly for COVID- 19, by self-isolation, social distancing, washing hand and hygiene, as immediate and direct response to the virus. Second, organisations have to stand tall to COVID-19. Once we moved out of self-isolation and social distancing, we had to respond to the next set of challenges within the organisation. How do we help our employees to excel as virtual employees, how do we empower virtual work and teams, how do we help our employees seamlessly, shift their focus as we rapidly redeploy resources? Third, we now need to have organisational specific changes to shape us into our new normal future."

Dayaratne also said: "Change is not a simple process, but it is a mindset. It is not what happens out there, but it is about what happens here. It is never about more knowledge, more data or more diagrams. It is about people, about attitude, and about culture. We are never too late to make big differences."

Therefore, the MBAA President said: "Let us all be optimistic about the future. When we are optimistic there is always an opportunity. This is the point that I want you to drive home. It is your unique personality that will determine whether you will win or lose in terms of constant distraction. The world we live in may change dramatically but you can always count on your values, your skills, and your attitude."

Outgoing President Ranga Ratnayake in his speech highlighted some of the initiatives and activities during the 2020/21 year under the theme 'Embracing the Agile Revolution'.

"Traditionally, it is for the President to declare a theme under which he hopes to conduct his year's activities. However, the theme for the year was not just for the year's activities; it is universal in that violent disruption and change has been the consequence of the global pandemic that has now engulfed us. Our theme 'Embracing the Agile Revolution,' as indicatively emphasised within itself, presented a period of uncertainty that required tactful navigation," Ratnayake recalled.

He said for the first time in the Association's history, the last AGM was held in hybrid mode with the physical participation of 75 people due to the restrictions as a result of COVID pandemic. However it enabled overseas members to participate as well as those who are not willing to physically be there due to busy schedules.

The MBAA's first event in 2020/21 year was held virtually focussing on the topic 'Agile culture and Remote Leadership'. The panel for the session consisted of Chintaka Jayaweera (joined from Denmark), Sandra de Soyza and Charitha Subasinghe. The moderator was then Deputy President Boshan Dayaratne. The session proved to be a great success with many active participants joining the discussion.

The second event was on the topic of 'Sailing through Rough Seas,' which analysed the challenges and strategies to optimise investments on post-COVID financial markets. The panel was composed of Kanishka Perera, Vindya Jayasekara and Udeeshan Jonas. The moderator for the session was alumnus Lasintha Ferdinando.

The discussion centred on the economic situation and the behaviours of the macro-economic factors during this new normal environment. Further, attention was devoted to the learnings on how to optimise investment returns in a low interest rate environment.

Ratnayake said considering the pandemic situation, it was decided to have only the Post Budget Forum, the 10th annual event organised together with Daily FT. Standard Chartered Bank was the strategic partner yet again.

"This was also our Association's first ever hybrid budget forum. The session was broadcasted live on TV Derana and on social media such as FT TV, YouTube, Facebook Live, etc.," he said.

Despite the pandemic related concerns all invited prominent business leaders participated at the live event, together with the State Minister of Money and Capital Markets and the Secretary to the Treasury. The live broadcast received a large audience participation on the respective platforms. The session continued to draw attention for a few weeks beyond the event as indicated by the number of views on YouTube, etc. Ratnayake thanked Project leaders Nishantha Jayasuriya and Chandima Samarasinghe for their very professional approach and raising the standards of the program to a greater height.

Ratnayake also said that the relationship with the University had greatly strengthened in various ways during the leadership of Vice Chancellor Senior Prof. Chandrika Wijeyaratne. The MBAA was invited for the University of Colombo centenary celebrations and the welcoming of the Education Minister after he took oaths.

In addition, engagements included participation in research conferences, convocations, MBA inaugurations, viva interview panels, MBA admission interviews and resourcing of alumni members as mentors for the University Undergraduate Mentoring Program.

To enhance the benefits offered to members, MBAA partnered NDB Bank to launch an exclusive Affinity Credit Card which portrays a unique design of College House premises in the background and presents benefits, inclusive of the lifetime waiver of the annual and joining fees. In addition, the Association will get a contribution from the bank from each member transaction. The first credit card was officially presented to the Vice Chancellor.

The MBA Member Induction Day too was held as a virtual forum for new members to dialogue and get an introduction about the Association. Dr. Rohan Fernando, Executive Director of Aitken Spence PLC, participated as the Chief Guest at the event and his keynote address highlighted the importance of perseverance and an inner drive needed to achieve success in life.

MBAA also celebrated the International Women's Day in 2020/21. "The role played by women in our lives, the corporate world, and in society at large is second to none. Today, the need for female leadership has become more critical, and there is a never ending catalogue of data to support this claim," Ratnayake emphasised.

In line with the International Women's Day 2021, the MBAA chose to challenge some of the perspectives that the society upholds on women leadership and to appreciate them through a flyer campaign. "Our pride is that this campaign conveyed the messages of our own alumni, both female and male, holding senior positions in organisations in different industries on how they view the impact of women leadership," the outgoing President said.

During the year, MBAA under Ratnayake's leadership undertook a couple of new initiatives to create a public awareness of the brand with the Association's new logo. The corporate video and background image were used to promote MBAA at all events. On top of that MBAA managed to promote corporate video on mass media platforms such as TV Derana and social media on a free of charge basis, which eventually resulted in gaining a good publicity among the public.

Ratnayake thanked the entire MBAA membership, Trustees, Past Presidents, the Patron of the Association Senior Prof. Chandrika Wijeratne Vice Chancellor of University of Colombo, Prof. Pradeep Dharmadasa – Dean FMF UoC and Registrar of the university K.A.S. Edward and partners.

The Colombo University MBA Alumni new team for 2021/22 year comprises of Boshan Dayaratne (President), Chandima Samarasinghe (Deputy President), Vidushan Premathirathe (Vice President),

Senaka Ekanayake (Secretary), Kulendran Sivaram (Asst. Secretary), Chamila Cooray (Treasurer), Suraj Radampola (Asst. Treasurer), Ranga Ratnayake (Immediate Past President). The Ex-Co members are Nishantha Jayasuriya, Upali Ratnayake, Chethana Liyange, Waruna Jayathilake, Prabath Kaushalya, Dulanjie De Silva, Hema Kumara Mayadunne, Shanaka Wijesinghe, Pavithra Samarasinghe, Kumudumalie Alwis, Bonali Perera, Hiruni Withanage and Ajith De Silva. Trustees are Pubudu De Zoysa, Jude Silva and Saranga Wijeratne. Ex-Officio Members are Past Presidents Thusitha De Silva, Prasad Jayasuriya, Hilary Fernando, Lalith Sumanasiri, Rohana Ellawala, Neil De Mel and Anusha Wijegunaratne.