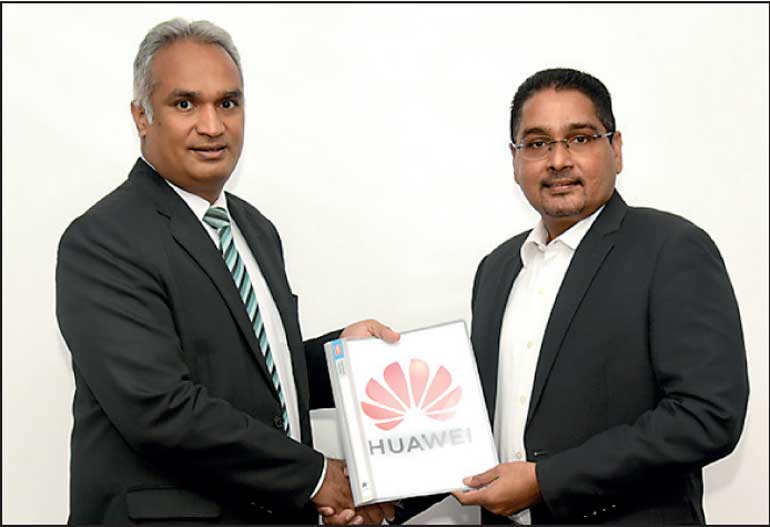 Huawei Technologies Lanka Vice President Enterprise Business Group Indika De Zoysa (left) exchanges the strategic partnership agreement with Colombo University MBA Alumni Association President Boshan Dayaratne – Pic by Ruwan Walpola
---
Technology giant Huawei comes forward as strategic partner for the full-day 'Knock Knock 2022' conference at Hilton Colombo
New opportunities in agribusiness, fairy and fishery will come under spotlight by a host of experts at the full-day forum on 15 February organised by the Daily FT and the University of Colombo MBA Alumni Association.

Titled 'Knock Knock 2022', the annual management conference of the Colombo Uni. MBAA will bring together private and public sector experts in three dedicated sessions highlighting challenges and opportunities in agribusiness, dairy and fishery.

The focus on these three sectors is in line with the Government's thrust strategy of boosting the local economy towards self-sufficiency as well as harnessing export markets.

Central Bank Governor Nivard Cabraal will be the Chief Guest and World Bank Country Manager Chiyo Kanda will be the Guest of Honour.

Global technology giant Huawei has come forward as the Strategic Partner for the forum to reinforce how the latest technology can help improve efficiency, productivity and innovation in these three sectors.

"We decided to focus on Agriculture, Dairy and Fishery this year because we consider these industries are indispensable, crucial and fundamental to our economy. Our view is that this conference will instruct and educate the public on new opportunities for business ventures and most importantly will aid in attracting the local and foreign investments," Colombo Uni. MBAA President Boshan Dayaratne said.

"During the conference we will be elaborating on the business opportunities and technological advances in these industries," he added.

The forum will be addressed by veterans in the respective industries Sri Lanka Agriprenuers Forum Chairman Rizvy Zaheed (agribusiness), Ocean University of Sri Lanka Dean Faculty of Fisheries and Ocean Sciences Dr. M.F.M. Fairoz (fishery), and Maliban Group Head of Corporate Affairs and Strategy Asoka Bandara (dairy) as the keynote presenters.

Huawei Technologies Lanka Co. Ltd. Vice President Enterprise Business Group Indika De Zoysa and National Livestock Development Board former General Manager Chithral Munaweera will participate as the keynote presenters on the technology interventions in the respective industries. An eminent panel will join them in a panel discussion chaired by University of Peradeniya Professor in Agriculture Prof. Buddhi Marambe.

A spokesman for Huawei Technologies Lanka said that digitalisation of business processes has moved beyond technology manufacturing sectors, where it drove the first wave of digital growth, to encompass a much larger share of economic activity. In fact, recent trends show that the sectors of the economy traditionally considered to be "least digital", such as agriculture and utilities, are amongst the sectors where technology investment is growing fastest.

"As a result, the nature of the digital economy is changing. We have entered a new era, in which the digital economy encompasses businesses across all sectors of the economy, using digital technologies with ever-more intensity, to profoundly disrupt how value is created.

"In Sri Lanka, Huawei is looking forward to working together with our stakeholders, to accelerate the digital transformation in agriculture," the spokesman said, adding more cooperation and collaboration can be achieved across industries and sectors to contribute to a more intelligent and more environmentally-friendly agriculture industry.